It's Official: Dylan Carlino Is the Funniest Person in Austin

Dominating newcomers prove the city is a comedy magnet
BY VALERIE LOPEZ, 2:15PM, WED. SEP. 20, 2023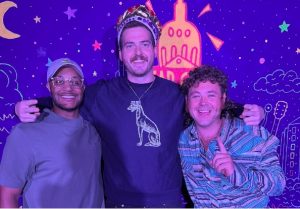 It's good to be king! Newly crowned Funniest Person in Austin Dylan Carlino, flanked by runners-up Mycal Dédé and Dean Stanfield (r). (Photo by Chandy Popp Kurzweil)
The 2023 Cap City Comedy Club Funniest Person in Austin (FPIA) contest wrapped up its May-to-September run whittling down over 300 contestants to the final six and then the ultimate winner: Dylan Carlino.
The finals, which took place Sept. 10 at Cap City Comedy Club, were hosted by 2022 FPIA winner Tyler Groce, who moved to New York City late last year. Carlino and fellow finalists Mykal Dédé, Dean Stanfield, Roxy Castillo, CJ Landry, and Brandi Davis represented a cross-section of the old Austin comedy scene and the wave of new comics who have moved to Austin to pursue comedy in the post-COVID influx.
Carlino was crowned the 2023 winner with Stanfield and Dédé placing first and second runners-up respectively. For his acceptance speech, Carlino offered a very much NSFW Kathy Griffin quote because she is his favorite comic and Conor McGregor because to Carlino "nothing is funnier than overconfident people who think of themselves as winners."

Nothing is funnier than overconfident people who think of themselves as winners.
Dylan Carlino, winner of 2023 Funniest Person in Austin
Carlino had low expectations for how he would do in the 2023 FPIA competition, having recently moved from Portland where he competed and advanced in local contests hosted by Helium but had never placed. He admits he had put too much stock in the contests in Portland and felt it did not bring out the best in him. After moving to Austin, he didn't even enter the 2022 FPIA contest, instead focusing on sobriety. Carlino said "I had pledged to myself to get back into comedy full force for 2023" and his efforts paid off.
An interesting bit of trivia for 2023 is the fact that of the six finalists, only Castillo and Davis have been in Austin more than 10 years. Stanfield has lived in Austin for five years, but Dédé, Landry, and Carlino have been here less than two years. One could infer, then, that the Austin comedy scene has officially become a magnet for talent, and the talent was on display in this year's final round. Not only that, but we are bearing witness to a rapidly evolving comedy scene. Prior to the pandemic, you could count on at least two to three comics in one year's finals round to make it to the finals round in the following year. I have been watching this contest for over a decade, and this year was the first year where not a single finalist from last year who entered this year's contest made it past the semifinals. Is that what we call an upset or is it a reflection of the shakeup happening in the comedy scene?
Last year's top three finishers were an eclectic mix of traditional standup, dark comedy, and storytelling comedy. Interestingly, 2023's top three finishers could be described similarly. Matt Bearden, one of the seven paneled judges, mentioned that of the finalists, the judges were unanimous in choosing Carlino as winner, but the remaining positions were less clear-cut to rank.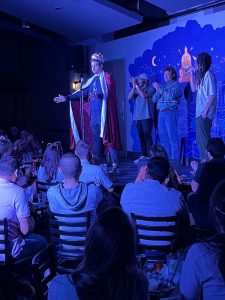 Dylan Carlino delivers his winner's speech at Cap City Comedy Club on Sept. 10 (Photo by Chandy Popp Kurzweil)
The top three finishers happened to be the first three performers of the September 10 finals and their performance order match their contest ranking (you can add that to the 2023 trivia fact list). Second-place runner-up Dédé kicked off the evening with excellent misdirection comedy, earning several roars from the crowd for jokes punctuated by a Brené Brown reference and a grandmother gone rogue.
Stanfield performed next and placed as first runner-up for his style of comedy perfectly encapsulated by his TikTok handle of @mulletandcrocguy combined with an incredible crocodile-based story (sorry, no spoilers).
Carlino was the third performer of the night, and there is not much we can describe of his set and keep the article PG-rated. But the audience reaction, and the unanimous judge's rating, made it evident that he had the audience in the palm of his hands from start to finish. Cap City came to a roar over and over again as Carlino continued to pepper the audience with shocking and hysterical jokes. The remaining comics had a tough road ahead to grab the audience and judge's attention after Carlino's performance, but Castillo, Landry, and Davis did not let that deter them, as the trio gave us solid performances worthy of their appearance in the finals.
For the next nine months, until the search begins again, Austin will continue to lure comics to its fertile comedy training grounds and develop the talent we will be seeing in 2024. And Dylan Carlino will continue celebrating with all the new fans he collected on his way to becoming the Funniest Person in Austin.
Valerie Lopez is the executive producer of the Comedy Wham podcast. comedywham.com.
Column by